Mobile app

A free mobile app is available for download. Please note that this was last updated on 1st April 2016 and may not operate effectively on the latest mobile operating systems. This is currently under review.  The App indicates:

•   all the registered AEDs/PADs throughout the Bailiwick on an interactive map
•   symptoms of a cardiac event
•   basic life support information
•   what is an AED/PAD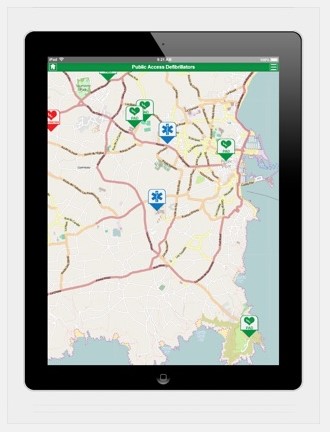 Using the app, you can zoom in on the map to see the exact location of a device. A photo of the device is provided to help guide you to it as well as written instructions to locate it. If stored inside a building, opening hours of the building are provided. Outside of listed hours, you may not be able to access that particular device and may need to locate a different one nearby.

Note: information detailed in the App is not designed to replace medical advice.  If you are unsure you should always call 999 immediately. 

Download
Click one of the links below for a free download suitable for different operating systems.


Android
Please note that this was last updated on 1st April 2016 and may not operate effectively on the latest mobile operating systems. We hope to have an updated version very soon.

iOS 
This is no longer avaialble.  We hope to have an updated version soon.
You can also access a Guernsey map of devices on the 'Unit locations' page of this website.